Hey Hey Hey! Gosh, three posts in one weekend. I'm gettin' on it! Welp, I'm here to do my first Sunday Social. I meant to link up last week and I just didn't have time to get a post up. Neely from A Complete Waste of Makeup is awesome. I mean she is hilarious, honest, and always brightens my day when I see a new post from her. I just love her. Enough gushing...on to the questions, Aimee.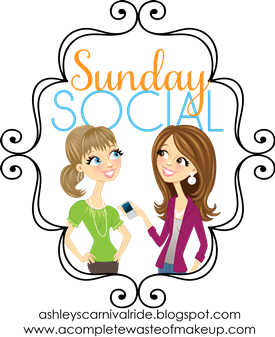 1. What is your dream job?

Well, allow me to let you know that I have not a freakin' clue! If the economy didn't royally suck I would say be a wedding shop owner. Buuut, lately I've been wanting to just be a stay at home mommy when I have kids. I have been in college for three years now and I've changed my major five times. Nothing fits. I honestly think I'm meant to not go to college because I really feel like I'm wasting my time.
2. If you had just won the lottery and didn't need to work for money, what would you do with your time?
I would blog full time, volunteer, probably still work where I work now because I do love it (it's a dry cleaners), and then I would most definitely help Richard get a car restoration business going since that's what he loves to do.
3. When you were a kid, what did you want to be when you grew up?

Everything. Let's get a little list goin', shall we? A lawyer (thanks to Elle Woods and Legally Blonde), a graphic designer, a wedding dress boutique owner, a pastry chef, a counselor, a youth pastor, a special education teacher, and a no-kill animal shelter organization lady. That about sums it up. Clearly I have no direction in life.
4. What piece of career advice would you give someone just starting out in your field?

Well, I work for a dry cleaner. I work up front with customers checking in clothes, working the register, etc. so I would tell them first you need to be able to deal with problems that the customers have. Be thorough, be patient, and let them know you really care about what's going on. Orrrr you're going to have a hell of a time.
5. Biggest pet peeves in life, blogging, or work.

Let's just list 'em all shall we? In life: rude people, not using your turn signal, drama, living in America and refusing to learn to speak English. In blogging: I really don't have a whole lot other than people commenting and saying "Come check out my giveaway, I'll follow you if you follow me, New follower come follow me!" I'll come follow you if you interest me. Don't shove it down my throat. At work: Probably the biggest is rude customers and after that it all deals with my co-workers...not doing their job, slacking, leaving it for me to do, and last not being able to do anything by themselves! LANTAAAA.
6. Biggest Fears?
BUGS, any kind of bugs. Losing someone I love, my beloved kitty running away, and thunderstorms :(
Well, I feel like that Sunday Social might have been more of a rant than intended but that's okay. Head on over and link up your little bloggies, ladies!