Is it seriously August 5 already? School starts in two weeks, gag me! But for the time being, it's about time for another Sunday Social with
Neely
and
Ashley
! I think this is probably my favorite link up for the simple fact that it is always different! Plus I feel like I learn a lot about the other bloggers who are participating just by their answers!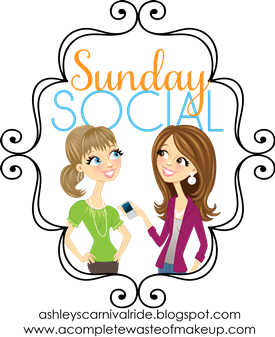 1. What is your favorite fall activity?
I would have to say my fave activity for fall is decorating the house! I think it is so fun to get pumpkins and decorate them and to have cute leaves everywhere! Plus I really love the colors of fall.
2. Do you follow a football team? If so which one and why?
Duh! I love football, (it's probably my second favorite activity of fall.) I of course follow my high school football's team from the school I graduated, probably because Richard played varsity there and I went to all his games so it just stuck. And then I watch NFL like it's outta control. My family is football obsessed. My dad and older brother have season tickets to the Kansas City Chiefs so they are always either at a game or watching one. I personally follow the Miami Dolphins! I don't know why I love that team so much but since I was little I have always loved them and it just stuck!
3. What is something fun about fall in your area?
I love the spirit people get into about football here. It is like a way of life around here and if your kid is in football people just get so wrapped up in it. It's a tradition for the senior girls at my school to paint their stomachs for our cross-town rivalry game. The other team's senior boys wear kilts and paint themselves too. Before all the football games they always have a huge cookout with tailgating and after the games the drumline plays outside the stadium for the fans. It's just a really fun experience.
4. What are your favorite fall outfit staples?
1. Oversized sweaters. image via
2. Colored tights. image via
3. The color mustard. dress shoes
4. Slouchy boots. image via
5. Scarves. image via
5. What are you looking forward to most about the upcoming fall season?
I'm most certainly ready for the weather to cool down. A 70 degree day sounds absolutely amazing. I detest winter and love heat but Kansas is in such a drought right now and we really need a break. I'm also looking forward to the leaves changing color, it's one of my absolute favorite things about fall.
6. What is your favorite fall holiday? Do you have any traditions?
I would have to say Thanksgiving. My family usually tries to go out to eat on Thanksgiving (obviously that is like really ludicrous, so I talk them into making dinner.) Most of the time I will cook the full meal for dinner and we just hangout. If my family isn't doing anything I will go over to Richard's for their Thanksgiving. The only tradition we have is putting up the Christmas tree the weekend after Thanksgiving!
What are your favorite parts about fall?