Hello lovelies! I'm so happy today is Fridaaaay! Plus, I get to share with you who I was a blog angel for! The blog angel was a program that Rosie from
Craftbotic
put together for bloggers to help each other gain bigger followings, improve their blogs, writing, etc. The catch though is your had to help your blogger out anonymously without them finding out who was helping!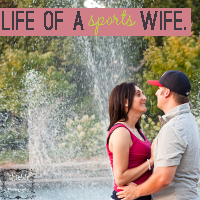 The blog I was an angel for was
Life of a Sports Wife
written by Jessa. When I first found out who I was helping out I thought I would never be able to help. Our blogs are about two totally different things and since she mostly writes about sports I couldn't ever relate. However, when I started frequently reading I realized she writes about her faith, posts weekly scriptures, and ended up talking lots about her move from Oklahoma to Arizona!
Since Jessa was so busy this month she didn't get a whole ton of time to post which means I didn't get a whole lot of chances to leave her comments without giving up my identity! I commented as much as I could, especially on posts with scripture that really touched me. Then, about a week into the month her and I managed to swap buttons without her realizing who I was so I was able to include her in my sponsor feature for the month. I also followed Jessa on twitter and retweeted her a few times as well as put some shout outs about her blog so people could go check her out. I'm not sure I did too much to help her blog grow but I know I gave her some love. I also made her a signature for the bottom of her blog about midway through the month.
I've really enjoyed helping Jessa out and staying up with her blog but trying to keep unnoticed! It feels really great to know that someone is stalking you and giving you love so I'm glad I had the chance to do it for her! Check out some of my favorite posts of hers below!
I'll be sure to tweet and put a blog post up about the next round of blog angels. Sign ups with go live September 15! Have a happy weekend :)